Koch Enterprises Names Kevin R. Koch as President
October 30, 2011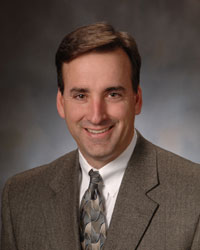 Koch Enterprises, a diversified corporation headquartered in Evansville, Indiana for 138 years, announced Kevin R. Koch as President. Kevin Koch will take his father, Robert L. Koch's, place as President, and Robert will remain as Chief Executive Officer and Chairman of the board.
Beginning January first, Kevin will be responsible for driving the vision of the company and delivering business results. He will establish a strategy through a combination of organic growth, targeted acquisitions and divestiture of underperforming assets for the company's seven subsidiaries including Audubon Metals, Brake Supply, George Koch Sons, Gibbs Die Casting, Koch Air, Southwestern Communications and Uniseal. In addition, he will oversee the company's mergers and acquisitions. "I will ensure personally that our organization continues to support our tradition as a catalyst for growth and improvement in the communities in which we operate," Koch said.
A metallurgical engineer with 21 years of professional experience in manufacturing management, Kevin comes to Koch Enterprises from Brake Supply where he was president for six years, growing revenue by 40 percent. During his time at Brake Supply, Kevin identified, acquired and integrated two companies successfully into the Brake Supply organization. He also brought two product lines to market organically. As Gibbs purchasing manager, he oversaw annual spending of USD 100 million and worked overseas in Hungary and Korea for extended periods of time. Prior to working for the family business, he was employed with Electronic Data Services in Plano, Texas, Ford Motor Company in Cincinnati, Ohio, and Siemens (formerly Westinghouse Electric Corp. Power Generation) in Orlando, Florida.
Kevin is married to Margaret Koch with two young daughters. He attended Notre Dame University where he earned a Bachelor of Science degree in Metallurgical Engineering in 1990. He graduated from Indiana University with a Master of Business Administration degree in Marketing and Management in 1996. In 2010, Kevin earned a Tuck School of Business Leadership Certificate. In 1997, Southwest Indiana Chamber of Commerce named Brake Supply as Business of the Year. He currently serves as a board member on the Economic Development Coalition of SW Indiana (executive committee), Tri-State World Trade Network (president from 2005-2009), Catholic Foundation (finance committee), Koch Foundation, Brake Supply, Gibbs Die Casting, Audubon Metals, Uniseal and Koch Enterprises.
About Koch Enterprises
Koch Enterprises, Inc, founded in 1873, is an Evansville-based multinational corporation. It's a diversified company operating in automobile parts manufacturing, wholesale distribution, metals recycling, and equipment design and construction.