Koch Air Announces New President
December 15, 2011

Koch Air, LLC announced Brad J. Muehlbauer as President effective January 1, 2012.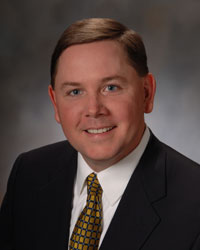 Brad is a member of the fifth generation family leadership at Koch and assumed his responsibilities January first. He will lead Koch Air in distributing high quality, energy efficient Carrier equipment and all associated HVAC parts and supplies throughout parts of Indiana, Illinois, Kentucky, and Missouri.
Brad has been with Koch Air for more than four years as the Vice President of Operations. In that role, he led the company's parts stores and warehousing operations, as well as all company purchasing, warranty, continuous improvement, and information technology efforts. Brad has also been a member of the Koch Air Board of Directors for more than six years. Prior to joining Koch Air, Brad spent eight years at Gibbs Die Casting, most recently as the President – North American Operations. Brad also served several years as a management consultant at KPMG and as a marketing project manager for BP. Brad has a BS in Industrial Engineering from Purdue University and an MBA, with distinction, from the University of Michigan. In 2010, Brad also earned a Tuck School of Business Leadership Certificate from Dartmouth College.
Currently, Brad serves as a board member at Koch Air, South Western Communications, Audubon Metals, Koch Foundation, Koch Enterprises, United Way of Southwestern Indiana, EVSC Foundation, and the Christ the King School Board. Brad is married to Lynn Muehlbauer and they have two children.
About Koch Air, LLC
Koch Air, LLC has been focused on distributing quality, energy efficient Carrier residential and commercial products since 1936, and is among the oldest and largest Carrier distributors in the U.S. Today, Koch Air has seven branches, more than 280,000 square feet of equipment and parts warehousing, and a fleet of more than 20 delivery trucks throughout the Midwest. Koch Air serves a large network of dealers, engineers, and contractors with technical, sales, and business management support.