Expanding into the Future
September 30, 2013

By: Beth Tompkins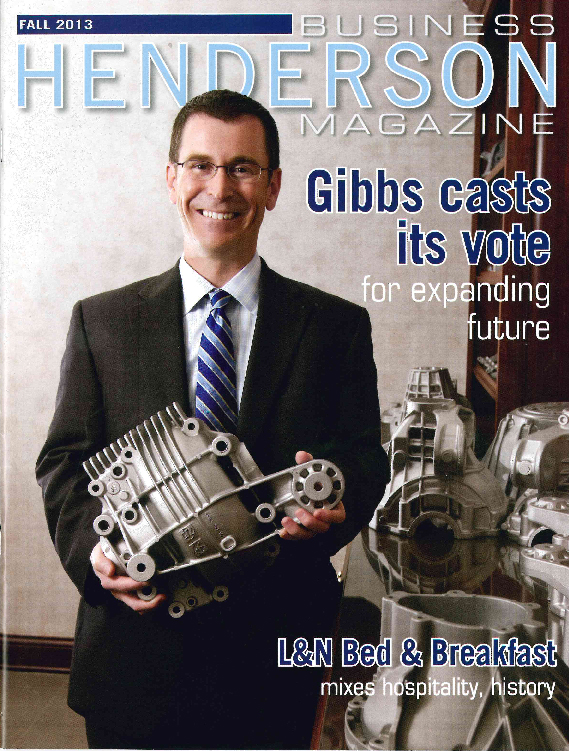 When Gibbs Die Casting Corp. announce a planned $22.8 million investment in its Henderson plants in the next three years, the news had many looking forward to what comes next.
For Gibbs' President and CEO Steve Church, it was looking back that brought the biggest smile.
"I am forever grateful to the dedicated team members that allowed this to happen," Church says.
Although an expansion is exciting for any business, it was particularly amazing to the team at Gibbs, who had endured a three-year downward spiral that started in 2007 with the automotive industry crash and lasted through 2009. Gibbs, a global producer of aluminum and magnesium automotive parts, took a hit alongside the drop in vehicle sales, with a 50 percent drop at Gibbs-Henderson during the crash. In what Church calls "an effort to survive" the company was forces to close and consolidate plants and downsize its workforce in effort to find stability in a turbulent situation.
"It was a dark and scary time to Gibbs," Church says. "Many Gibbs team members worked long hours in a difficult environment during those years and countless sacrifices were made to help the company succeed...I am blessed to have the opportunity to work with such great people at Gibbs on a daily basis."
And it is those people and those sacrifices that Church credits for the recent successes as well as the company's Henderson roots.
"Gibbs and Henderson have one major factor in common that has helped shape each other; that common factor is people," Church says. "The people at Gibbs and in Henderson have strong values. They are honest, hard-working, family-oriented people."
The company, which was established in Henderson in 1965 and has since expanded with factories in Korea, China, Brazil and Hungary, has maintained an intention to contribute to a higher quality of life for its workers and local communities, which is evident in their mission statement. Church says he personally has been greatly impacted by working for Gibbs.
"(It) has improved my own quality of life by allowing me to learn and grow as a business leader in a dynamic and challenging global business," he says. "At times it has been extremely difficult and challenging as we navigated through the recent economic recession. But, it has also been extremely gratifying and fun when we have been able to overcome seemingly insurmountable obstacles to accomplish our goals."
The next goal will be hiring a variety of new dedicated team members. From production and assembly line operators to engineers, toolmakers, and management personnel, the new hires will be an integral part of the expansion in Henderson.
During the next three years of expansion (taking place at both the Ohio Drive and U.S. 60-West locations), Church says Gibbs will continue to strive to be the best in class in the markets they serve, meaning a continued recognition from customers of Gibbs' innovation, quality, delivery and service. The company's vision is also for its workers and surrounding community to benefit from team members' community involvement and increased financial results.
"We are working diligently to move toward our vision in all these areas," Church says. "Our expansion will certainly play a major role in getting us there."
Source:
Henderson Business Magazine