Brake Supply Acquires Downard Hydraulics
June 21, 2009


On April 30, Brake Supply acquired the assets of Downard Hydraulics Inc. through a newly formed entity, BSC Downard LLC. The company will be a subsidiary of Brake Supply and has about 90 team members and 12 million in annual sales.
Kevin Koch, president of Brake Supply stated, "We believe we are positioned to grow faster than before as a result of this strategic alliance."
Downard is based in Princeton, WV and has a small shop in Jasper, AL. They primarily remanufacture hydraulics for underground mining equipment that fills a gap in Brake Supply's product mix. Up until this point, Brake Supply has focused on above ground mining equipment. There are many hydraulic applications on longwall and continuous mining equipment. Brake Supply will sell Downard products in the midwest and west as Downard already has a sales force in the Appalachian area and in Alabama. In addition, their sales force can sell Brake's existing mobile equipment components to their existing customers. They will also be able to capitalize on the lower prices that Brake Supply has negotiated with vendors. The company is led by Don Downard Jr. (Sales) and David Downard (Operations).
Brake Supply looks forward to a long and successful relationship.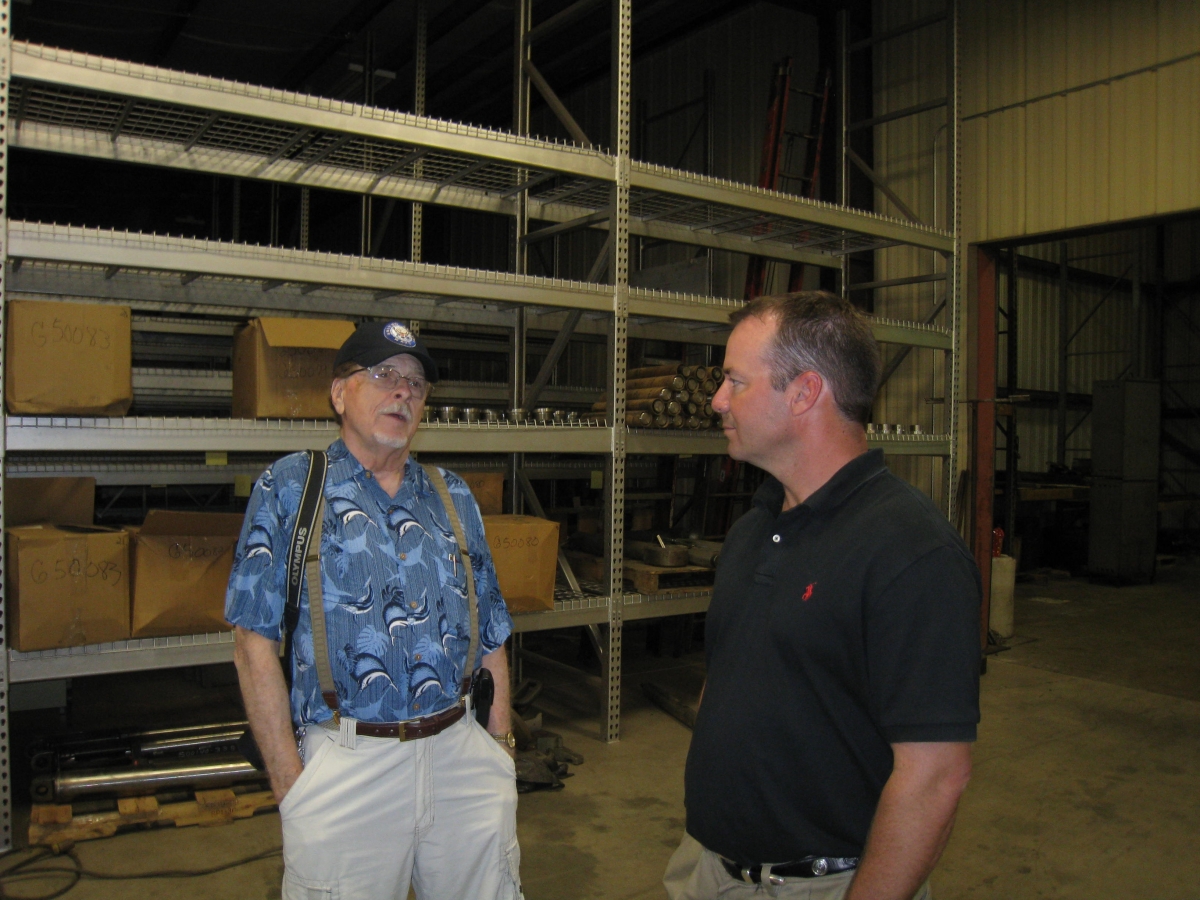 Tom Berkley of Brake Supply (right) talks with Don Downard, Sr. at the aquisition announcement.
More about Downard Hydraulics
Downard Hydraulics Inc. was established in 1975 for the purpose of manufacturing and rebuilding industrial hydraulic equipment. D.E. Downard, the founder, has had considerable experience in manufacturing and rebuilding hydraulic components and systems going back to 1960 and has established an excellent reputation for quality and service. Although most of their business is manufacturing and rebuilding hydraulic cylinders, they also manufacture related equipment, up to and including the design and manufacture of complete systems. The Princeton plant operates around the clock on weekdays, and they maintain a fleet of trucks for quick pick-up and delivery service in emergencies. They have a facility with the equipment to do virtually all work in house, including chrome plating, quickly and economically. The chrome is far superior to repair shop chrome, and they can consistently plate to hardness of 60 Rockwell C and above. One hundred percent (100%) of the units passing through the shop are dynamically load tested at or beyond maximum load as appropriate, and the performance of each unit is logged for future reference.
All methods, materials, etc., used are chosen and/or approved by the experienced Engineering Department, which is headed by a Registered Professional Engineer, giving the customer further assurance that the job will be done right.