160 Jobs Created as Gibbs Expands
May 25, 2013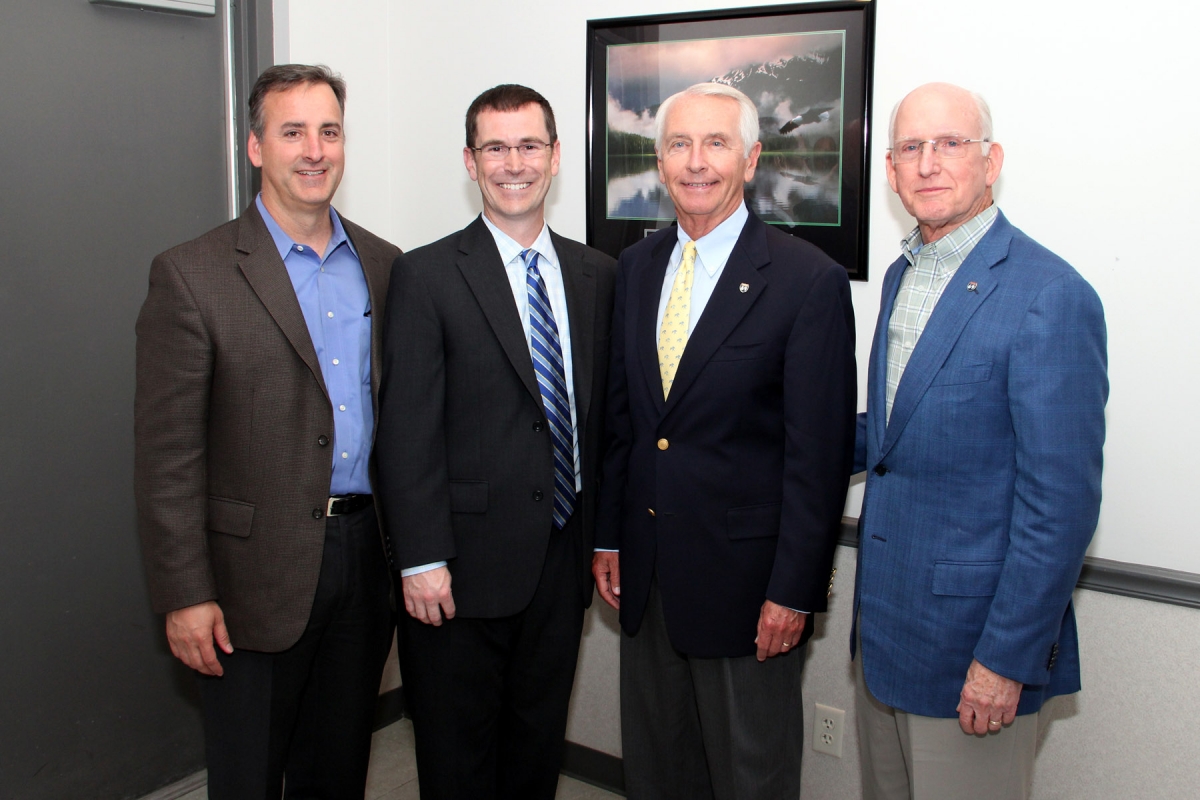 As a company born and raised in Henderson, it's no surprise that when Gibbs Die Casting Corp. had good news to announce, it should be serenaded with "My Old Kentucky Home."
Gibbs, a Henderson-based global producer of aluminum and magnesium automotive parts, on Wednesday said it will invest $22.8 million and add 160 jobs here over the next three years to expand manufacturing production at its complex along U.S. 60-West.
(Pictured from left to right: Kevin Koch, President of Koch Enterprises; Steve Church, President of Gibbs Die Casting Corp.; Steve Beshear, Govenor of Kentucky; Bob Koch, CEO of Koch Enterprises.)
"This is a thrilling announcement to make," Gov. Steve Beshear said shortly before presenting a pair of silver mint julep cups — a favorite means for consuming cocktails made from Kentucky bourbon — to company executives. "We are continuing to turn the economy around in Kentucky."
Gibbs, established here in 1965, has grown into one of the world's largest die-casting companies, with eight factories on four continents producing aluminum and magnesium automotive parts.
But as it gears up to increase die-casting production and build new manufacturing lines to produce parts for eight-speed automotive transmission, Gibbs came back to its hometown.
"We're embarking on some contracts with General Motors and ZF (a German-based company) to produce new transmission parts made of aluminum to help make lighter vehicles with better gas mileage," said Bob Koch, chairman of Evansville-based Koch Enterprises, which owns Gibbs.
"Advanced transmissions have many speeds — eight or nine speeds — and we're working confidentially on a design for a 10-speed transmission," Koch said.
"This investment is with risks ... We're banking on customers being able to pay their bills and we're banking on good forecasts from those companies."
"We're very excited about our future," in part because customers in 2011 placed record-breaking sales orders, followed by "very strong" orders in 2012 and this year, declared Gibbs President and CEO Steve Church.
To meet the demand, Gibbs is investing in new machining operations at its Gibbs' Comac plant on Ohio Drive here, while new production lines are planned for the company's Tech and Synchronous plants along U.S. 60-West.
Gibbs will be hiring production and assembly line operators; skilled workers such as engineers, industrial maintenance workers, toolmakers, and engineering and robotics technicians; and management personnel. Overall, wages for the new hires are projected to average $18 per hour.
Church thanked several people for helping secure those incentives, including Gibbs Chief Financial Officer Bill Baxter and Controller Angela Phaup; Donna Crooks, the vice president, existing business for Northwest Kentucky Forward; Patty Lockhart, a business development specialist for the Kentucky Cabinet for Economic Development; and city, county and state officials.